BLOG

ENGLISH<>ITALIAN
GERMAN<>ITALIAN
FRENCH>ITALIAN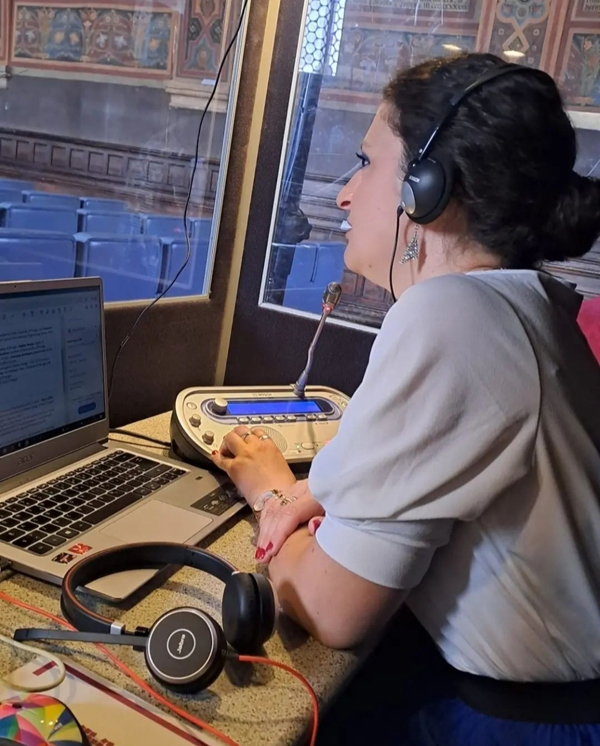 "Study and, in general, the pursuit of truth and beauty is a sphere of activity in which we are allowed to remain children all our lives." (Albert Einstein)
I was born in Perugia (Italy) in 1985 and grew up with a strong curiosity and passion for books, foreign languages and cultures. At the age of eight I began studying languages, and after the language high school I devoted five years of university to studying conference interpreting and translation techniques, living between Rome and Munich. I graduated in Rome in Linguistic and Cultural Mediation and in Conference Interpreting.
Since 2010 I have been working as an interpreter and translator in English, French and German languages with enthusiasm, passion and dedication, never having stopped reading, studying and traveling.

I dream of a world in which fluid and barrier-free communication can promote intercultural dialogue, knowledge exchange and human development, enabling professionals to expand their horizons and evolve by accessing global opportunities.
My mission is to create strong and meaningful connections between cultures by breaking down language barriers and facilitating information exchange, mutual understanding, and international growth and expansion.

I can be your voice and translate the content, tone and intention of your message into another language with speed, clarity, accuracy, attention to detail and industry language, conveying your emotions and maintaining the same linguistic nuances and subtleties as the original message.
GET IN TOUCH FOR A FREE QUOTATION!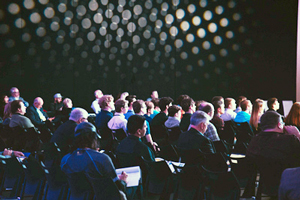 WHAT PEOPLE SAY ABOUT ME
"Alessandra was a hard-working and brilliant student (...), she is very determined, curious and reliable. I highly recommend her as a simultaneous and consecutive interpreter." (Mely Garroni, conference interpreter since 1960 and AIIC member)
"I worked with Alessandra while at European Alternatives. She is reliable and professional and I recommend her service as a simultaneous interpreter." (Alessandro Valera - Ashoka Italia)
"Dear Ms. Checcarelli, we would like to thank you for your collaboration and the utmost professionalism and availability you have shown over the years. Both we and our clients have very much appreciated the accuracy and the timely delivery of your linguistically very accurate translations and transcriptions. We look forward to collaborating with you again in the future." (Luigi Zambelli - Studio Acta)
"We are very satisfied with the consecutive interpreting service carried out by Alessandra Checcarelli, who made it possible for all attendees to understand Mr. Mans Lindberg's speech, representative of the European Commission, at the Italian Ministry of the Environment, Land and Sea Protection. The interpreter's service was crucial for the success of the newborn SUMP Watch's first national workshop." (Association Euromobility)
"We contacted Alessandra for the translation of a lease agreement: quickness, competence and courtesy were the features that struck us most!" (House Experience Srl)
"Dear Ms. Checcarelli, your interpretation from English into German and vice versa during our meeting of the international General Council was correct and excellent. This is true for both quality and quantity. You have got a rich vocabulary in the above-mentioned languages and you were able to adapt very well to the situation in our group. We wish you further success." (Sister Liberata Ricker - Sisters of the Divine Providence)
"Working with Alessandra means working with a serious and competent professional. Spirit of cooperation and flexibility are among her main features. She is the right person to ensure a successful event." (Simone De Bardi - Alpha Languages)
"Many thanks to @ACheccarelli85 for her excellent job this morning!" (Frédérick Eppendahl - Headvox)
"I confirm the super-professional service Alessandra carried out today at Hilton Hotel in Rome together with me and my clients; all-star English simultaneous interpretation!" (Maurizio M.)
"Thank you, @ACheccarelli85, for your excellent interpretation into Italian." (Ewandro Magalhaes - KUDO Inc.)
"Very good service, right on time, very correct, very good and with an excellent command of the English language. Very warm person." (Viviana and Lucia C.)
"We are ecstatic at the result of our KUDO 2.0 launch event, and so very impressed with the work you have done! (...) The audio and interpretation quality were simply impeccable." (Ewandro Magalhaes - KUDO Inc.)
"We were honored to have you, @ACheccarelli85. Thank you also for your excellent work at the two-day event we serviced in Noto, Italy." (Ewandro Magalhaes - KUDO Inc.)
"Thanks to @ACheccarelli85 for the impeccable interpretation. (...) I have experienced the value of your interpretation firsthand on several occasions, and I can undeservedly recommend you as an interpreter of Italian and German. (...) Everyone was very positively impressed." (Ewandro Magalhaes - KUDO Inc.)
"Hi Alessandra, I really liked your interpretation performance at yesterday's conference with Franz Baumann! Your interpretation was excellent!" (Massimiliano Lombardo - UNESCO Brazil)
"Alessandra is a very competent colleague, attentive to clients' needs and very flexible. A very good booth mate!" (Claudia Catena, conference interpreter and translator and AITI member)
"I have managed interpreters for over 20 years, in the United Nations system and beyond. Alessandra ranks very high up on my personal hall of fame. She is a talented, multilingual conference interpreter who switches seamlessly to and from Italian, German, French and English. She is among the earliest adopters of KUDO, and has amassed incredible experience in nascent field of remote interpreting. For a reliable multilingual professional to service meetings anywhere in the world, look no further. I unreservedly recommend her services. A great colleague with impeccable work ethics." (Ewandro Magalhaes, former chief interpreter at the UN)
"Alessandra is a stellar linguist (...) and a career freelancer. She has lived and worked in Italy, France and Germany. She primarily took care of (...) consulting clients with due diligence projects involving the European markets. She has successfully completed many expert network calls (...) on various topics." (Maggie L. - Cadence Translate)
"Alessandra, thank you for the excellent service and for your patience! It was a good and valuable time in Gaeta and in the area of Latina!" (Christian P.)
"Thank you Alessandra, you did a very good job!" (Serena Valentino - Otherwords)
"Alessandra Checcarelli is one of our go-to people in Italy. You can't go wrong with her. Highly recommended! An excellent interpreter." (Fardad Zabetian and Ewandro Magalhaes - KUDO Inc.)
"Thank you most sincerely for your professionalism." (Sergio C.)
"Great work. A friend of mine was following in Italian and was amazed and sang praises to your interpretation! Very lively, congrats! We're hearing all sorts of positive reports (...). Thank you for being part of this experience and for your excellent work with a very challenging speaker. I am sure this event will go very far." (Ewandro Magalhaes - KUDO Inc.)
"Alessandra has been one of the top Italian linguists we have in the community. She is an experienced conference interpreter (...). I'm quite confident in her strong research ability, language proficiency and professionalism, which could help smooth your consultations (...)." (Jessie Z. - Cadence Translate)
"An amazing interpreter!" (Alison Klayman, film director)
"Very competent and professional!" (Claudia C.)
"Alessandra Checcarelli has been a professional interpreter for more than 10 years now. In her experience, she has worked for high-profile corporate clients, conferences, and workshops (...). She is one of our top English-Italian interpreters who has assisted us for more than 50 projects (...). I am sure she will do a great job for you." (Kimberly M. - Cadence Translate)
"Alessandra joined Cadence in 2017. Having lived and worked in Italy, France and Germany and with 9 years of interpreting experience, she is one of our very best interpreters." (Stephanie T. - Cadence Translate)
"I have to say again that you were all wonderful! It is probably pretty clear to you that that literally would not have been possible without you. You contributed to a lot of change!" (MO2019 event organizer)
"Our U.S.A. team of English respeakers is working with Alessandra on a 3-day global business event. We are subtitling from her translations. First of all, we could listen to her gorgeous accent all day long, secondly, she is excellent in everything she does from pre- and live production to event logistics and operations. Lastly, she is an absolute pleasure to work with and we will drop everything to work with her and Studio Acta anytime! Our absolute favorite international clients!" (Rebecca Moore - Heard to Word Services)
"Your professionalism and patience were extraordinary all day long." (Mario Buccigrossi - Associazione Mente e Coscienza Onlus)
"Alessandra is a wonderful professional. Extraordinarily competent, professional and honest, it is always a pleasure to work with her in the booth!" (Ersilia Lanzante, conference interpreter and translator)
"Dear Alessandra, thank you so much. We had a great time today and you accompanied our wonderful moments perfectly with your translation. We will surely be happy to see you again." (Bernd M. and Silke R.)
"It is not enough to say thanks to all of the onA.I.R. team and Intersteno Italy Group, which is a unique consolidated group by now after 5 years together: (...) Alessandra Checcarelli, a great professional, interpreter and respeaker, always ready to do her job to the fullest and in the most desperate circumstances without giving up (and once more she didn't disappoint us)." (Francesca Marchionne, president of the Association onA.I.R.-Intersteno Italia)
"Alessandra is one the best booth mates I have ever worked with. She is a very skilled conference interpreter, and last but not least a very pleasant and funny person. I would recommend her to anyone." (Sergio Paris, conference interpreter and translator and BDU member)
"Dear Alessandra, thanks again for the very good job you did." (Roma Bar Show 2019 staff)
"Thank you so much, Alessandra, for the wonderful collaboration!" (Sergio Paris, conference interpreter and translator and BDU member)
"A great professional!" (Daniela B.)
"(...) Very good, in spite of the complex topic." (SCALIBUR event organizer)
"Alessandra is a very good interpreter and booth partner! It is always a pleasure to work with her!" (Selene Pedetta Peccia, conference interpreter and translator and AITI member)
"(...) Everything went very well, I was very satisfied with your service and also (...) congratulated on the very good job you all did."" (Katiucha Boncompagni - We Translate Beauty)
"Alessandra Checcarelli, a great professional who collaborates with Studio Acta also remotely! Studio Acta only hires senior professionals with proven experience like Alessandra! Congratulations and thank you for the wonderful collaboration and for helping us innovate our services. Alessandra is one of the few interpreters in Italy who can do subtitled simultaneous interpreting with respeaking (speech recognition)." (Luigi Zambelli - Studio Acta)
"Alessandra is a talented linguist and polyglot who ranks high on my personal hall of fame. She is thorough, accurate and business-oriented, the type of interpreter anyone would love to have on a team. She helped us blaze new trails by joining the ranks of KUDO certified interpreters early on. Consider Alessandra for any interpretation projects involving Italian, French, English or German." (Ewandro Magalhaes - KUDO Inc.)
"Thank you so much for the excellent job." (Francesca V.)
"Nice job, Alessandra!" (Eric Bassanesi - Centro Pilota)
"Our client was very satisfied and yesterday night he called me to praise us for the whole service and especially for your professionalism and competence during the service. Ablio needs professionals like you and we wish to have a fruitful collaboration in the future." (Marco Leopardi - Ablio)
"I thank you and congratulate you on the very good service you carried out." (Loredana La Rotonda - Ablio)
"Thank you for your excellent service." (Birgit Klyssek - BK Translation)
"Thank you for your patience, you were really great and we will be glad to collaborate with you again in our next workshops. According to the participants who have filled in our assessment questionnaire, the interpretation quality was excellent." (Luciana L., psychotherapist)
"Alessandra has supported over 100 projects for us (...). She has experience with many disease and health topics, such as the orthopaedic surgery space, glaucoma treatment, neurology, and more. We're confident she's a great fit." (Brandon T. - Cadence Translate)
"You were able to interpret without omissions, additions o substitutions, you maintained the flow of the call and demonstrated very good command of both languages. You also have excellent customer service skills. Congratulations, you did an outstanding job! Score: Exceeds Expectations. Keep doing the great work you have been doing. Nevertheless I have just seen your portfolio, it is wonderful." (Nelson R. - Voyce Global)
"Thank you very much for your help with this project. The client was very happy with your work!" (Nicolas P. - Medicys Limited)
"We are so thankful for your assistance during this event and for your quick and proactive communication throughout. We look forward to working with you again soon. Many thanks." (Rebecca M. - AI Media)
"Thank you as always for your availability and professionalism." (Massimo Binetti - Write System)
"Thank you very much, you were excellent. Congratulations on your work." (Andrea C. - PINN 2021 team)
"On behalf of the teams (...) can I extend a huge thank you for your work on translating and interpreting for the In Full Flight event (...). Your skills are nothing short than AMAZING (...). For us the event went really well. (...) It was important to us that everyone tuning in from the UK, France and Sweden were able to access the event - and you helped ensure that was so. (...) So, huge thanks again - we hope to work with you again in the future." (Julia Skelton - Mind The Gaps)
"Thanks for your support, our sisters are very happy!" (Sister Elaine L. - Missionary Sisters of S. Antonio M. Claret)
"Everything went well, thank you for your hard work." (Sthephani D. - LatinLingua)
"Thanks so much for your great work today! Looking forward to more interviews with you (...)!" (Lichen Z.)
"Thank you for your amazing efforts and exceptional work!" (Interprefy staff)
"Thank you, a very good translation service." (Lucia F. - Redaelli)
"Thank you so much for your excellent job!" (Alessandra C. - Future of Europe Conference)
"A serious, competent and reliable professional." (Aleksander A.)
"Alessandra, I am thrilled to inform you that you received words of praise and gratitude for your recent assignment (...)! Thank you for all your hard work!" (Brandon T. and Arul R. - Cadence Translate)
"Thanks again for today and for all your extraordinary client coordination work." (Samuel Zambelli - Studio Acta)
"Very flexible, absolutely fab!" (Dean G.)
"Thank you everyone for your work! You did a great job!" (Sara D.)
"Thanks all together! You did an amazing job!" (event organizer)
"Thank you, thank you, thank you! You have been wonderful!" (Jeremy L. - ILTK)
"Hi Alessandra, thanks for your great work today!" (Gary F. - AI Media)
"Hi Alessandra, many thanks for your perfect job and feedback." (Birgit Klyssek - BK Translation)
"Great, guys. You were wonderful." (Francesca Marchionne, president of the Association onA.I.R.-Intersteno Italia)
"Thank you, (...) great in-depth analysis. And congratulations to our wonderful interpreters!!!" (Zoom conference participant)
"Thank you, you are wonderful, your explanations are very accessible and the interpreters are very clear and exhaustive. Congratulations and thanks to everyone!" (Zoom conference participant)
"Thank you both, your interpretation was very much appreciated." (Marco C. - SWL)
"Thank you, I listened to you during the first part and your professionalism was impeccable." (Elisa S. - ILTK)
"(...) The non-Italian speakers were very happy with the interpretation. Thank you so much for your support on this; I appreciate it was hard, considering the microphone setup, but the audience thought you did a fantastic job, so thank you very much and hopefully work together soon (...)." (Chantal P. - EY-Parthenon)
"Alessandra is our go-to IT-EN linguist. Having supported more than 150 calls for Cadence, Alessandra is well-versed in the software and internet sector. Specifically, Alessandra has supported previous calls with similar topics such as IT software/services market, healthcare industry, IT purchasing decision-makers, and so on." (Jessie R. - Cadence Translate)
"Alessandra is our go-to IT-EN interpreter who has supported 158 projects with Cadence. Alessandra is well-versed in the EU market and has previously assisted topics such as brokerage services, insurance claims management and more!" (Wurihan - Cadence Translate)
"You are excellent! Thank you!" (Zoom conference participant)
"Dear Alessandra, thank you very much for yesterday, and for your patience in the tech chaos/delays in the meeting. I have received excellent feedback from my colleagues, so please rest assured that we will use you for the rest of this activity, and perhaps in other activities." (Lamprini J.)